The Necessities of Professional Carpet Cleaning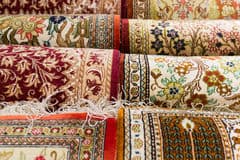 The Necessities of Professional Carpet Cleaning
Many people believe that it isn't necessary to hire a professional carpet cleaner. That's actually far from the truth. There are various advantages to getting your carpet cleaned by a professional carpet cleaner. Not all the reasons put forward will apply to your situation but if only one of them does, then you'll need to take the services of a professional carpet cleaner into consideration. These conditions are as follows:
Kids

Kids are lovely little bundles of joy. At the same time, they can be vehemently destructive. They might spill food, make messes with paint and crayons or traipse mud all over the show, and that's only a few of their mischievous capabilities. They'll quite easily leave your carpet devastated and since they're very active in the house, they'll leave their tracks everywhere. This is a solid reason why people with kids need the service of a professional carpet cleaning service at least twice each year.
Pets

Pets don't fare much better than kids for your carpets. They can leave utter chaos in their wake. They'll often leave those pungent surprises on the carpet, in addition to them wandering around with mud on their paws and drooling saliva on the floor.
Carpet Stains

Your carpet might have incurred stains that can't even be removed with all that DIY prowess you've mustered. Professional carpet cleaners are a godsend in such situations. The equipment they have can handle ANY kind of stains that your carpet has incurred and you'll reap the benefits from important advice and pro-tips that they impart to you for free.
Events

When you're holding an event in your home, it's nice to spruce up your house and everything else around it. Giving the carpet a spotless clean is one of the biggest priorities here. It's perfect to use a professional cleaner that'll work on your carpet in advance so that your home has wondrous appeal when that gathering begins.
Consequences of Low Frequency of Professional Carpet Cleaning

When you don't contract the services of a professional carpet cleaner at least annually, your carpet will wear out faster and remain in an overall poorer condition. It's important to create a schedule for professional carpet cleaning throughout the year.
Traffic

You'll require professional carpet cleaning services if there's a large volume of human traffic cavorting around your home. It could be for a variety of reasons, perhaps you've got an office at home. Or you could just have a large number of visitors on a daily basis if you've got an avid social life. If all these people walk on your carpet frequently, there'll be large amounts of dirt deposited onto your carpet over short periods of time.
New Look

When you're looking for a more refreshing setting within the home, you can hire the services of a professional carpet cleaner to add to the sparkle.
Easy Maintenance

When you get your carpet cleaned by a professional cleaner, it becomes that much easier to maintain and the lifespan increases dramatically. It's also easier to manage in between professional cleans.
These reasons are sufficient enough for you to get in touch with a professional carpet cleaner in order to maintain your carpet and reduce the visits you'll be making to new carpet vendors otherwise.